My Maternal Grandparents - Dowling and McDaniel
---
Albert Lewis Dowling and Ethel Louise McDaniel
Albert Lewis (A. L.) Dowling was born on 22 April 1885 at Varnville, Hampton, South Carolina. He was the 4th of 8 children of Decanie and Mary Long Dowling. He married Ethel Louise McDaniel, daughter of William J McDaniel Sr. and Eliza Matilda Evans, on 24 February 1909 at Barnwell, South Carolina. They lived in Allendale South Carolina in 1910 and A. L. as he was known was self-employed farming and selling real estate. By 1920 they had two children, Saidee (my mother) and Herbert and lived in Coffee County Georgia. Before 1930 they had moved to St. Petersburg Florida.where A. L. was in the real estate business with his brothers and they had an office on Central Avenue near downtown.
The March 4, 1945 St. Petersburg (Florida) Times contained an article on A. L. on the occasion when he bought a home there for Ethel as a gift for their 35th Wedding Anniversary. The article contained a photo of the house and one of A. L. that are two degraded to use. The text of that article follows:
"Mix courage, faith and enterprise in a crucible and forth will come success." A. L. Dowling recommends this formula because he has applied it successfully to his own remarkable career. He is past president of the local real estate board, past president of the South Carolina Tourist society and at one time held executive positions in banking establishments in the city.
During the depression he went to Washington where he leased six hotels with the understanding that if he made good, he would receive title to the hotels and take back the mortgages with time to pay. His first move was to put out circulars on all Washington roads directing visitors to his hotels. Simultaneously he reduced rates. Soon all six hotels were full to overflowing and have remained that way to this day. Four of them, the Everett, Potomac, Senate and Congress have approximately 100 rooms. The London Hall apartments consist of 72 furnished apartments, and the John Marshall, 150 rooms is leased to the British government. Dowling says he had no trouble maintaining his staff of 100 because he pays high wages. Few of his men have been drafted.
Dowling's ability to make a fortune out of nothing dates back to his boyhood when he left his father's South Carolina farm with $1.50 in his pocket. He pair one dollar for his railroad fare and arriving at the first sizable town, he bought out a store on the credit basis of "one dollar tomorrow and a dollar a day until paid for." From that time to this he never had a salary check or been "bossed" by anyone but himself.
Today he has retired a wealthy man with one ambition . . . to get all he can out of life while he still is "young" and to keep his family happy. Recently he purchased a home at 2402 Brevard Road as a gift for his wife on their thirty-sixth wedding anniversary, Feb. 25. Dowling's brothers, J. F., M.C., W. B. and C. L. Dowling: his sisters, Mrs. Joe Tuten and Mrs. Edward Fluker, all of St. Petersburg, and his sister, Mrs. Mack Mixon, who is mayor of Allendale, S. C. gather in this city every year for a two-week family reunion.
A. L. died in 1948, but his wife Ethel continued to manage London Hall Apts. Because I was so young, the only thing remember I remember about him was that I was in the house when he died and everyone crying and being upset. 
The Potomac and Senate hotels (see photos below) were inherited by Al's children Saidee Dowling Wood and Herbert Dowling respectively. The other hotels except for London Hall Apts were sold by 1959.
Ethel was very outgoing and lived the life of a merry widow. While she was very business-like while at London Hall but enjoyed having fun and loved to dance. In 1951 she traveled to Europe in style on the ocean liner the Queen Mary. While she was rich by most standards, like many who lived through the Great Depression, she could also be very stingy with her money. For example, she would buy the cheapest shoes she could find and then she would complain that her feet hurt. On the other hand, I never had her turn me down when I asked for something from her. She also purchased a new Cadillac about every other year. She had many suitors but only enjoyed them as escorts to parties and other events as most were only interested in her money. She never remarried.
Mema, as Ethel was called by all around her, loved being around people and fun places. I remember the summer of 1964 when I lived with her in St. Petersburg while attending college. I partied to the point where I had to drop some of my classes but Mema was almost always out more nights than I was and if we were both out the same night she generally got home later than I did. She also closely guarded her age and I remember that on more than one occasion when I visited with her and had my young son Kenneth (her great grandson), she always acted as if I was her son and Kenneth was her grandson.
In the early 1970s we finally talked her into retiring and leaving Washington completely behind. The house A. L. had bought for her as an anniversary gift in 1945 became her full time home. In 1975 she suffered a stroke and was hospitalized. I think she then realized that her enjoyment of life would have finally to be scaled back. She never left the hospital and within a week she had suffered a heart attack and died at age 86. I don't think she wanted to take life easy. Both A. L. and Ethel died in St. Petersburg but were buried together in Washington, DC.
Saidee Elise Dowling - A. L. and Ethel Dowling's daughter and My Mother
My mother, Saidee Dowling was born in Fairfax SC in 1910. When her parents moved to St. Petersburg Florida, she attended St. Petersburg High School and later graduated from Stetson University in DeLand Florida with a BS degree. After graduation from Stetson, she moved to DC to live with her parents. In 1938, she took a trip on a steamboat that departed Key West and visited to Havana Cuba. I have the movies she took on that trip. She had a brief marriage in 1933 before marrying my dad in 1940. She lived in and worked for her parents at London Hall Apts. For more on Saidee see the section on My Parents.
Herbert L Dowling - A. L. and Ethel Dowling's Son
Herbert was born in Douglas Georgia in 1915. Like his sister he attended and graduated from St. Petersburg High School. Herbert married Anna Ruth Flood in Washington DC on 6 August 1938. In the 1940 Census Herbert is shown as manager of the Senate Hotel. Around 1946-47 he had also sold the Senate and moved back to St. Petersburg.
Herbert Dowling's family thought he was crazy to build motels for tourists in Treasure Island. Who would see a destination for visitors "on what was considered a mosquito lagoon?" But Herbert Dowling knew the business, growing up behind the front counters of his family's hotels in Washington, D.C. And he knew Pinellas County, where he attended St. Petersburg High School before the family moved to the nation's capital. He designed and built the Sands Motel, the first concrete motel in Treasure Island and an anchor of what became known as the Golden Mile. A decade later, he again made his mark with the historic art deco Surf Motel, whose classic midcentury design was featured in Architectural Digest. It was among the first motels on the beach to have central air-conditioning. Unfortunately in 2004, The Surf requiring extensive repairs had to be razed but it was given a fond farewell.
Herbert served as mayor of Treasure Island and he enjoyed a distinction: He was the last to hold the office for the old city of Treasure Island, which had incorporated the sand spit home for a handful of residents in a few frame cottages in 1937. He surrendered his seat in 1955 after helping to lead a campaign that consolidated Treasure Island with adjacent Sunshine Beach, Boca Ciega and Sunset Beach. He remained in Treasure Island until his death in 2005, leaving three sons, Richard, Robert and James and a daughter Mary and a number of grandchildren.
Herbert Dowling was a founder of the Holiday Isles and Treasure Island Civitan clubs and a charter member of the Treasure Island Hotel/Motel Association. He was a former member of Pasadena Community Church, St. Petersburg, and Church by the Sea, Madeira Beach. A 32nd degree Mason, he belonged to the Gulf Beach Masonic Lodge, Scottish Rite Bodies and Egypt Shrine Temple, Tampa.
Return to Dowling page.
Return to Families page.
Photos
Ethel and Albert L Dowling circa 1909
Saidee and Herbert Dowling circa 1915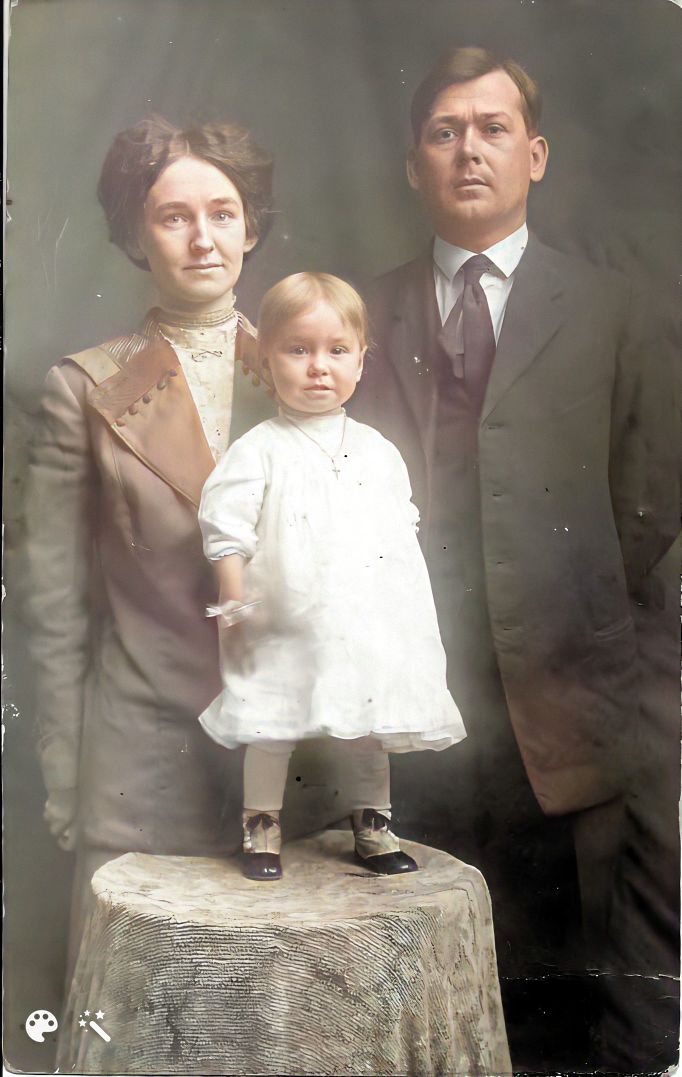 Ethel, Saidee and Albert L Dowling circa 1912 (colorized)
Ethel, and Albert L Dowling circa 1930s
Senate Hotel in Washington DC
Potomac Hotel in Washington DC circa 1930s
Potomac Hotel Flyer circa 1930s
Senate Hotel Brochure Cir. 1930s
Originally named the Pontiac Hotel in the 1940s nad it was located in Surfside, Miami Beach, Florida. During WWII it was used to house troops in training in the Miami area. When we owned it, it was named the Queen Anne Hotel.