My Paternal Grandparents:
Walter George and Mabel Maud McCord Wood
---
Continued from My Great Grandparents: George A and Lucy Turner Wood and Family.
My grandfather Walter, who I was named after, was single when he joined his younger brother Carl, a locomative fireman, in Sioux City Iowa sometime before 1905. This would have been about ten years after their parents George and Lucy had died in Science Hill Kentucky.
In March 1907, Walter was farming and was also vice president of the Sioux City Berean Brotherhood. This group was organized for the purpose of studying the Bible in an interesting and practical way. The Treasurer of this group was Oscar Lindblad [Lindblom], the cousin of Walter's future wife Mabel Maud McCord. Mabel had been in Sioux City since about 1904 and had been working as a domestic.
Walter was farming a parcel of land he had leased on the bank of the Perry Creek about a half mile upstream from the Missouri River. I am guessing that Walter and Mabel might have met through Oscar, and they were married January 24, 1909. Walter was 34 and Mabel only 23. A short time after the marriage, Walter sold his 90 acre share of the family farm in Kentucky to his brother Carl for $1,000 on September 19, 1908.
Their first and only child was my father, Clifford Ray Wood, born on March 6, 1910.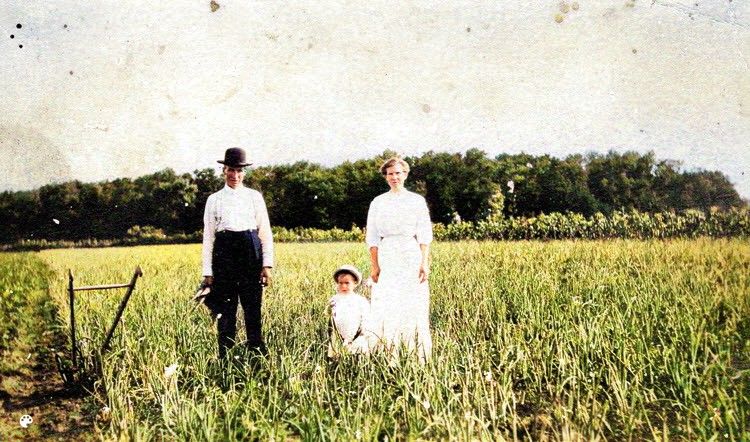 Farm of Walter G Wood in Sioux City Iowa showing Walter G, son Clifford and Mabel Wood Cir. Sept. 1912
Newspapers were a major source of information in the early 20th Century and they often included articles about agricultural opportunities in different parts of the country; One place farmers were being encouraged to move to Fellsmere, Florida, a small town located in the Indian River drainage basin on Florida's East coast between Jacksonville and Miami. Founded in 1904, Fellsmere was known for its rich soil and mild climate which made it ideal for farming. The town was home to a variety of crops, including citrus fruits, flowers, vegetables and sugarcane.
Walter might have seen one of these newspaper article that read, if you were a farmer who is looking for a new opportunity Fellsmere Florida is a great place to consider. The town has a lot to offer farmers, including fertile soil, a mild climate, and a supportive community. Below are some of the specific opportunities mentioned in the article:
The USDA was offering a loan program to help farmers move to Florida.;
The state of Florida was offering tax breaks to farmers who moved to Fellsmere.
The Fellsmere Chamber of Commerce was providing assistance to new farmers, including help with finding land and financing.
The article also mentioned some of the challenges that farmers might face in Fellsmere, including the high cost of land and the risk of hurricanes. However, it would have concluded that the opportunities in Fellsmere outweighed the challenges. Extensive drainage projects were turning the rich marshy "muck" soils into extremely fertile and arable farmland that was cheap. Some of these articles about farming in Florida were also published in the Iowa Farmer. I
The small farming town of Fellsmere, then a part of St. Lucie County, had a warmer, easier climate so crops could be grown year-round. As a result, and according to the Sioux City Journal on Friday November 8, 1912, my grandfather "departed yesterday for Feldmere [sic}, Fla., where he will spend the winter."I do not know if he spent that winter farming or just learning more about the opportunity. I also do not know if he continued to spend the winters in Fellsmere or, if this was only an initial scouting trip. In any event, he must have liked what he saw as it appeared farming in Fellsmere was too great an opportunity to pass up. From what I was told as a child, the family was permanently located in Fellsmere by 1918.
That my grandfather registered for the World War 1 Draft in Fellsmere in April 1918 confirms this date as the draft card seen below shows his address as Fellsmere and mentioned his wife, Mabel. However, the card also indicated he was employed in Sioux City and that he was a farmer. This fact may have exempted him from military service in the war.

World War I Draft Registration of Walter G Wood in St. Lucie County Florida April 1918
Walter, his wife Mabel, and son Clifford were a part of an early group of pioneer farmers in Florida who experimented with various cash crops including vegetables, oranges, and other fruits in this rich fertile soil. This was a rural lifestyle and even into the 1940s and 1950s Fellsmere still only had a population of less than 700 people. "Downtown" was only a couple fo blocks long (and still is).
At some point, the family joined the Fellsmere Community Church and were lifetime members.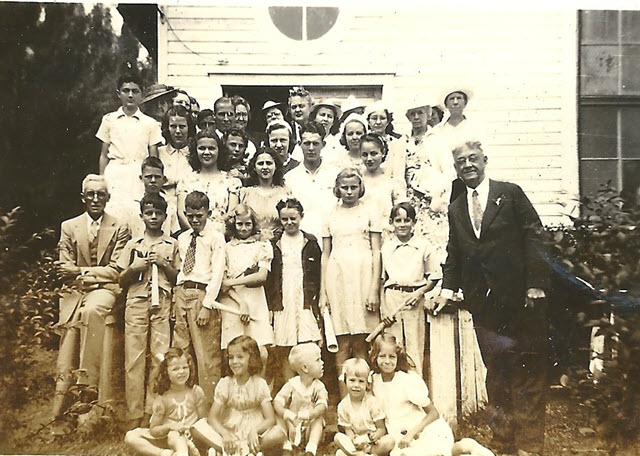 Walter G Wood lower left and Mabel Wood upper right at Fellsmere Community Church
My dad Clifford attended the old Fellsmere school which is now on the National Register of Historic Places.

Cliff Wood in Fellsmere School photo Cir. 1922
He is in the third row from top in middle with dark shirt on.
My granddaddy Wood was a farmer all his life. He plowed behind a mule which I barely remember riding once. In the late 1940s, the mule was replaced by a small tractor. He farmed several small tracts and sold what he grew to grocery stores and restaurants in the county from the back of his Model T Ford pickup truck.
Their one-bedroom house had no city water or sewer, in fact no one in Fellsmere had public utilities, just private wells and septic tanks. They used the well for irrigation and even though the water had a strong sulfur odor and was very hard, it was used for everything including washing clothes and bathing. After World War II, their son, my father Clifford, purchased a 250-gallon surplus military aluminum tank and set it up to catch the soft rainwater from their garage's tin roof. A screen over the intake from the roof kept the bugs and other things out of the tank. That tank supplied soft water for washing clothes in a wringer washer located in the garage. A gravity-fed pipe provided the water into the kitchen for coffee, tea and drinking.
My grandmother Mabel Wood was a great cook and baker and ran several restaurants. One was in "downtown" Fellsmere called the Dew Drop Inn and later she managed the canteen at the local sugar mill. One of my favorite things she cooked were large batches of sugar cookies which she stored in tins for later use. My dad and I always got yelled at for eating the first batch as soon as they came hot out of the oven. (I regret that I never got that recipe before she died!)
Because they only had a small refrigerator and the fact that they grew a lot of what they ate, every year my grandmother would can vegetables, fruits and other crops they harvested. They had orange, tangerine, and grapefruit trees in the yard. I remember helping plant Okra and green beans one winter. Celery, cabbage, and lettuce were some of the crops they sold. They also grew strawberries and raised chickens for eggs, both to sell and eat. Fried chicken or chicken and dumplings were frequently on the menu.

Mabel McCord Wood in front of her cafe, the Dew Drop Inn in Fellsmere FL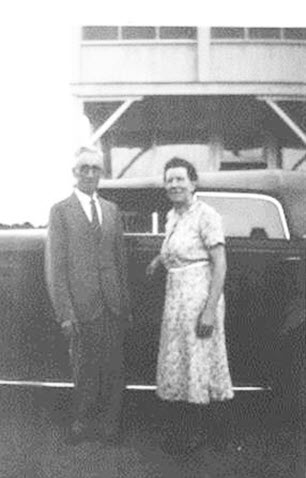 Walter & Mabel Wood in front of the Dew Drop Inn Cafe in Fellsmere Florida next to their 1932 Tudor Model B Ford.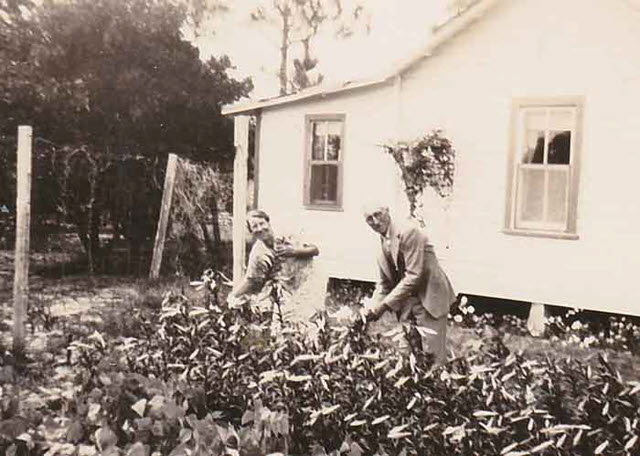 Mabel and Walter G Wood beside their home in Fellsmere FL cir. mid 1930s
My grandfather continued farming until the late 1940s when he suffered a stroke that left him paralyzed on the left side which forced his retirement. He lived about 10 more years after the stroke, but it had affected his memory and ability to walk unassisted. I was very young at the time and barely remember him before then. However, I do have several photos that were taken with him before the stroke where he was OK. The second one below is my favorite.

Walter G Wood holding grandson Walter D Wood in Fellsmere FL 1947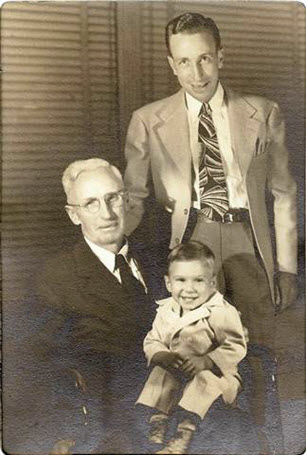 Three Generations: Walter G, Clifford R and Walter D Wood
After my grandfather's stroke, my dad helped with the farm during the winter. I remember traveling with him to various restaurants, some as far away as Orlando, to deliver the produce that they grew. I also remember harvesting cabbage and other vegetables. At some point, it became too much for my grandmother and the farm became more like a garden for their own use.
I should mention at this point that I primarily lived my early years in Bethesda MD just outside of Washington DC where my mother's Dowling parents were in the hotel business. My other grandmother Dowling who we called "Mema" became a widow in 1948 kept a winter home in St. Petersburg just across the state from Fellsmere. Generally, my mother and I spent our winters in Mema's St. Pete home while my father managed the hotels in DC, He would come down to Florida when he had the opportunity. Every other week, my mother, dad (if he was there) and I would drive across the state on highway 60 to Fellsmere to spend the weekend with my Wood grandparents. As a result, I had some good times in Fellsmere as a boy.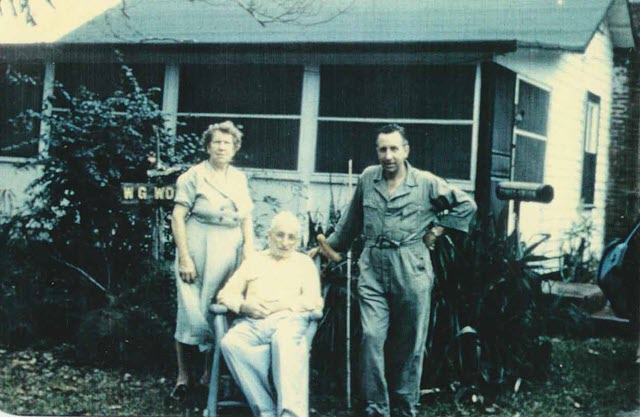 Mabel. Walter G (sitting) and son Clifford Wood at W G Wood home in Fellsmere Florida Cir. 1950
My Wood grandparents had very few things we consider standard today. Their phone was a party-line that was shared by others in the area. You had to count the rings to determine if the call was for you or not and everyone else on the party line could listen in. My grandmother Wood used a wringer washing machine and hung clothes out on a clothesline to dry. The only electrical appliances they had were that washing machine, refrigerator, mixer (for baking), toaster and a radio.
I don't count their water heater because it was a very small 5 gal. water heater that stood at the end of the claw foot tub. It had a timer mounted on it and you could set for it 20 minutes or so to heat enough water for a bath. The hot water would run directly into the tub from a spigot on the water heater. When taking a bath on Saturday night we needed only a little hot water to warm the water that came from the well since the well water was a constant 72 degrees.
For Christmas in 1952 my dad surprised his parents with a TV set. Due to very few stations back then, a tall antenna with a rotator was put in to reach the 2 or 3 stations available in Miami and Jacksonville. Both cities were over 150 miles away and the reception was lousy. A little later, Channel 6 was started in Orlando and provided a better picture. If Florida hadn't been so flat, there would have been no TV stations to watch.
I did not realize that for many years there was no heat in their house. I realized this while writing this article and looking at old photos from around 1940 I noticed there was no chimney on the side of the house so sometime in the late 1940s, my dad must have installed a kerosene stove in the corner of the living room. He also put in two small propane heaters -- their stove had already been propane -- one in the only bedroom and one in the bathroom. Looking back on it, those propane heaters were extremely dangerous since touching them would give you a severe burn and the flame inside them could have set fire to anything flammable that got too close.
There was a second make-shift bedroom at one end of the screened front porch that had a curtain separating it from the rest of the porch. When visiting them, my parents slept on the porch, and I slept on a hard fold-out couch in the living room. The porch had no heat.
Since that area was rural, there was all sorts of wildlife: racoons, opossums, snakes (including rattlesnakes and coral snakes), armadillos, Bobwhite quail, weasels, foxes, deer, and an occasional alligator when the water in the ditehes was high after a hurricane. There were lots of butterflies and I remember starting a butterrfly collection in a tray with a glass frame.
Speaking of quail, they loved to eat the strawberries so my dad built a live trap to catch them. Once they were in the trap, my grandmother would take them out one at a time, wringing its neck, and put it in her apron. One time she apparently did not wring the neck on one bird hard enough and only stunned it. As we were walking back to the house, that bird recovered and flew out of the apron scaring us. In any event, the quail were delicious.
Unfortunately, farming for a living never required Social Security taxes to be paid and there was no Medicare or Medicaid back then so all they had financially was my grandmother's Social Security check and what they made from the garden to live on.
My Wood grandparents did get to celebrate their 50 Wedding Anniversary on Jan. 24, 1959, at the Fellsmere Community Church before he died in June of that year.

Walter G & Mabel Wood 50th Wedding Anniversary (grandson Walter on left, son Cliff and his wife Saidee on right)

Fellsmere Community Church in 2015. The celebration was held in the building to the right of the sanctuary.
My grandmother remained in Fellsmere after my granddad died and continued to keep a garden and her chickens. After 1962 my parents moved only a few hours away in Homestead Florida and regularly visited her. My grandmother outlived both her daughter-in-law and son who died in 1966 and 1967 respectively. At the time of her death in 1968, the remaining garden and chickens were gone, but the memories remain.
For more on my dad Cliff, see the section on My Parents.
For information on others in this family, please see the Descendant Chart of John Wood Sr. and the individual narratives.
To see more Wood family photos see My Wood Family Photos.